Back to list of articles. To visit other parts of the site, click on the title or other links above.
Use of surcharged stamps in Jiangxi Liberated Area
A few lines about stamps in surcharged and used in Jiangxi Liberated Area.
Various Nationalist stamps were surcharged in Nanchang, Jiangxi Province and issued on the 20th June, 1949.
They are listed in Yang as CC151-55, in Stanley Gibbons as CC117-32 and Scott as 6L17-32.
A very limited study of used values of this issue in my collection, indicates that many of them appear to have been Cancelled To Order (C.T.O.) in Shanghai in 1950.
A couple in my collection have different cancels.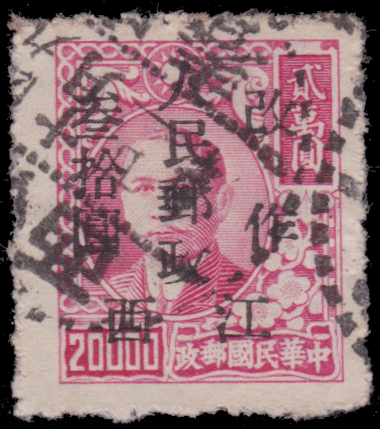 $30 on $20,000 rose,Yang CC158 used.
Part c.d.s. showing character 春 (chūn, Spring) probably from Yichun (宜春 Yíchūn; postal: Ichun).
It appears to be dated 21 or 31.10.49 in Chinese.
Also showing character 西 (xī, West), in the top section of the c.d.s.
Almost certainly from the name of the province Jiangxi (江西 Jiāngxī).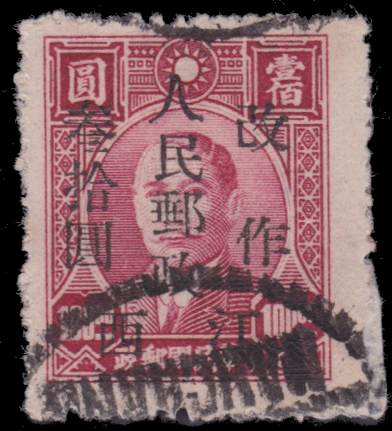 $30 on $100 red, Yang CC166 used.
Part NANCHANG (Jiangxi) bilingual c.d.s.