See the complete list of articles.
Or to visit other parts of the site, click on the title or other links above.
Manchurian Local Overprints
Hutou in Heilongjiang
Purple surcharges "China 50f", 50f written as 5 jiao (5x10f). Kerr 72. Only these three stamps are known for this town.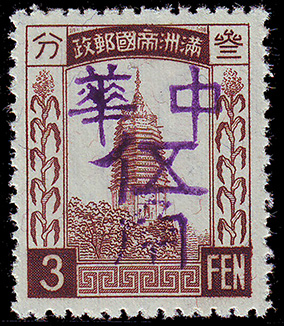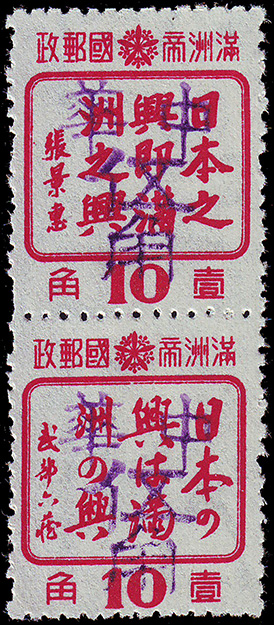 NOTE - I have a set of these stamps for sale - please contact me if interested.
Hutou, in traditional script 虎頭, modern 虎头, shown on some maps as Hutouzhen or Hutoucun (Hutou town or Hutou village) is in Hulin county of Jixi prefecture, Heilongjiang, China.
It lies on the Chinese west bank of the Ussuri River, in the north-east of Heilongjiang Province, on the border with Russia.
Forgeries exist; for an image, please see the Hutou page of the excellent Manchukuo Stamps website.
Nearby Hutou Fortress, was constructed during the war. It was a Japanese military base of the Kwantung Army in northeast China on the Sino-Soviet border which was known as "Oriental Maginot Line".
The leader of Kwantung Army regarded it as a dagger facing the defensive line between Vladivostok and Khabarovsk.
On August 26, 1945, the Soviet Red Army captured the Fort.
Only 53 of the 1,400 Japanese soldiers survived one of the last campaigns of the Second World War. Japan's unconditional surrender came 11 days later. There is a museum and various memorials erected by the Chinese and Russians on the site now.
It housed this large 410mm gun (removed by the Russian army in 1945, but now scrapped):
---
NOTE - the information shown here as been gleaned from sites already linked above and also Axis History Forum, Russian War Photo Archive (in Russian).
---
See the complete list of articles.